Claims 101
/
6 Steps You Should Take When Filing a Home Insurance Claim
6 Steps You Should Take When Filing a Home Insurance Claim
1.5K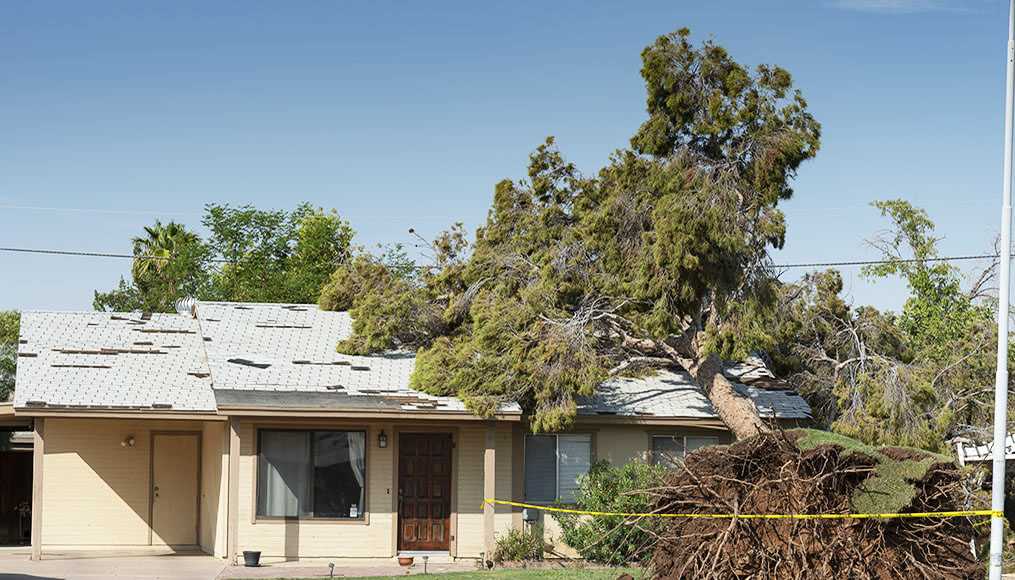 When you take out an insurance policy on a new home to protect your house and possessions, you might never expect to file an insurance claim against major, devastating damage. In reality, most homeowners prepare for the worst never anticipating it could actually happen to them.
Whether you've experienced vandalism or a natural disaster, the process for filing an insurance claim can seem overwhelming at first. This guide breaks down 6 of the most important steps you need to follow in the event of destruction to your home.
How to File an Insurance Claim
There are a variety of reasons you might be filling an insurance claim against your homeowners policy. From an injury on your property to a burglary or storm damage, filing a claim starts with reading through your insurance policy to identify the preexisting time limits on the claims process.
Before you start making any repairs yourself, it's imperative to understand these chronological steps to ensure your home is adequately protected throughout the reconstruction process.

Get a Quote
1. File a Police Report If Necessary
If the damage to your home is the result of a burglary or vandalism, contact the local authorities immediately. Get a police report and notate the names of any police officers who visit your home in case they become necessary during the process of filing a home insurance claim.
You may want to ask for a written police report before the officers leave your property to verify you have all the necessary documentation on-hand and can provide it to your insurance provider.
2. Document and Protect Your Property
In addition to protecting any part of your property that hasn't already been damaged by the incident, it's crucial that you collect any documentation regarding minor repairs or replacements you do along the way. This could include putting up a temporary tarp over a window to prevent further damage from mold or things like it.
Documenting the damage can include taking photo evidence of your home or property immediately following the incident so that you can provide a timeline of events to the adjuster and your insurance provider.
If you can provide documentation or receipts for any damaged property, now is the time to share those details with your adjuster. The structural damage to your home may seem obvious to them, but your insurance provider won't know which possessions have been damaged unless you provide a list for them to include with your claim.
3. Initiate the Claim with Your Insurance Provider
After you've contacted the authorities (or if the authorities aren't relevant to your case), it's time to initiate the claim with your insurance provider.
In most cases, there's a set time limit on the window from the incident date that you're allowed to file a home insurance claim. If you can't get in touch with your local agent, call your provider's main number and file a claim with the first representative you reach.
This is a great opportunity to ask any lingering questions about your home insurance policy or to get guidance on starting any minor repairs to your property. Your insurance provider will advise you on the appropriate next steps and let you know when it's safe to begin mending the damage to your home.
Make sure you write down the claim number provided by your insurance company and the names of anyone you speak with about the incident.
4. Schedule Time with Your Home Insurance Adjuster
Next, your insurance company will assign an adjuster to act as your go-to resource throughout the process. In most cases, they'll schedule an appointment with you to assess the damage to your property in-person.
It's important that they see your home as close to its original condition after the incident as possible. The adjuster's job is to inspect and document all of the damage done to your home, so it doesn't' make sense to try and clean up before they arrive! Only clean or conduct very minor repairs that inhibit your living there. Remember to take pictures of everything before you move anything around.
5. Consider Moving out of Your Home Prior to Repairing the Damage
The process for filling a home insurance claim may not resolve itself overnight, and you may want to consider moving your family out of your home while it's being repaired.
After your adjuster has forwarded all of the damages back to your insurance provider, you should be identified of the amount you'll expect to receive to cover the cost of repairs or replacement as necessary. In a perfect world, the insurance company will offer you the exact amount of money needed to repair or place everything that's been damaged in the incident. If you've been keeping proper documentation along the way, you already know what that amount is.
Navigating the Home Insurance Claims Process
Hopefully, you never have to deal with the ins-and-outs of repairing major damage to your home, but in the event of an emergency, it's important to know how to file an insurance claim and what to expect from start to finish.
Similar Articles
4 Min Read