Auto
/
Does Car Insurance Cover Earthquake Damage?
Does Car Insurance Cover Earthquake Damage?
27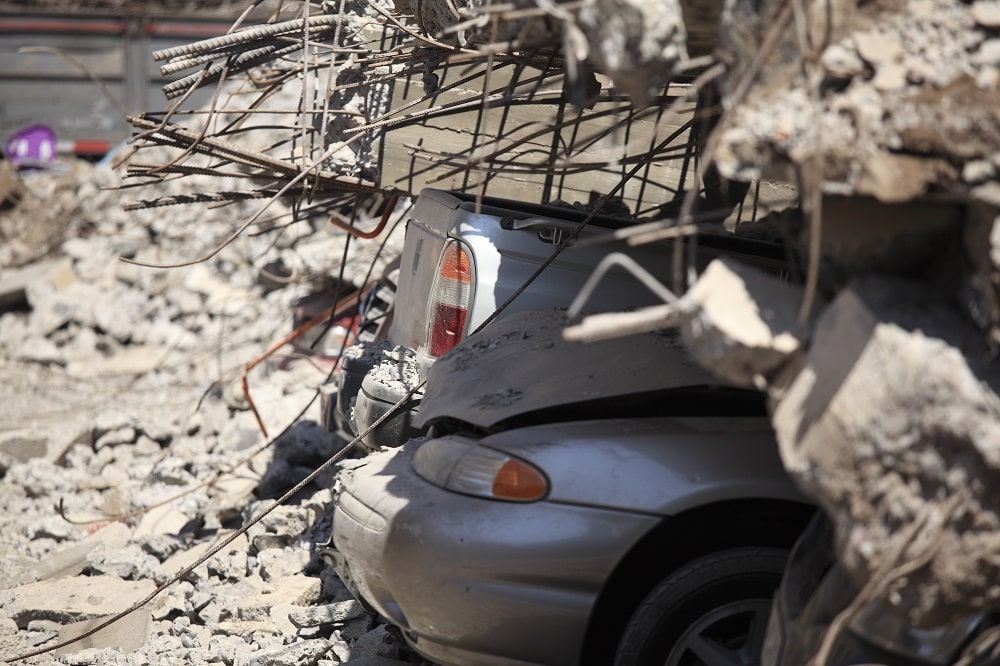 While earthquakes are exceedingly rare for most parts of the United States, they do occur somewhat frequently along the fault lines in California, up the entire west coast and certain parts of the Midwest.
When substantial earthquakes do hit, they can cause a significant amount to the surrounding area, which includes your vehicle. Earthquake coverage works similarly with your auto insurance as it does with homeowners insurance. Let's take a look at what kind of coverage you can expect, what happens when you file a claim and much more.
Does Car Insurance Cover Earthquake Damage?
Yes, car insurance covers earthquake damage to your vehicle as long you have comprehensive coverage included in your policy and the damage was directly caused by an earthquake, such as the ground moving and causing a tree to fall on your vehicle or sucking your vehicle into the ground.
You'll have to have comprehensive coverage in your policy, though, because liability and collision coverage won't pay for any damage related to an earthquake. Liability coverage is designed to pay for other vehicles, property and medical bills for others not in your vehicle if you're at-fault in an accident. Collision coverage is designed to pay for repairs to your vehicle and the people in your vehicle if you're in an accident — whether you're at fault or not.
Comprehensive coverage, on the other hand, is designed to pay for your vehicle if damages outside of your control occur. Earthquakes — along with other weather-related events like hurricanes, tornadoes and floods and non-weather-related events like theft and vandalism — are covered under this portion of your auto insurance policy.
What Will My Insurer Pay for Earthquake Damage?
If your claim is covered by your insurer, they will pay up to your policy's maximum limit to repair the damages. If the cost of damage exceeds your vehicle's value, your insurer will only be required to pay up to its value — even if it's less than your policy's maximum coverage.
If your vehicle is worth $25,000, we highly recommend enrolling in $25,000 worth of comprehensive coverage. That way you wouldn't be stuck paying out of pocket for any damages that exceed your insurance payout.
Let's look at a real-life scenario. If an earthquake causes a tree to come tumbling down on your vehicle, totaling it because the repairs are greater than its value, your comprehensive coverage would likely pay for the damage. If your vehicle is worth $25,000 and you only have $15,000 in comprehensive coverage, your insurer would pay you a maximum of $15,000.
That means you'd have to fork over $10,000 to replace your vehicle. If you still owe $25,000 on your vehicle, the insurance payout would go directly to your lender and you'd be stuck paying $10,000 for a vehicle you can't even drive anymore.
Since vehicles are depreciating assets and tend to lose their value very quickly, you may also want to invest in gap insurance. In the same scenario, there's a good chance you could owe your lender $25,000 for that vehicle, have $25,000 in comprehensive coverage and it's only worth $20,000 at the time of the incident.
In that case, you'd still be stuck paying $5,000 out of pocket after your insurance claim. However, gap insurance is designed to pay the difference between your vehicle's value at the time it was totaled and how much you still owe your lender. If you owe more than your vehicle is worth, we recommend investing in gap insurance to be safe.
How Long Do I Have to File a Car Insurance Earthquake Damage Claim?
The typical timeframe to file any claim with many auto insurance companies is six months. Many companies void a claim if it's not filed within six months of the initial incident because it gets harder to prove the damage actually occurred due to that event — in this case, an earthquake.
If you decide to file a claim, it's always a wise idea to do so immediately after the damage has occurred. That way you get your vehicle repaired quicker and can get your life back to normal. The longer you wait, the more red flags you're sending to your insurer. You're also taking a risk that more damage may occur in between the earthquake and the filing date, which may nullify the initial claim.
Whether or Not to File a Claim
Let's say that minor damage amounted to $1,500 and you have a $1,000 comprehensive deductible. It would probably make more sense to pay the entire $1,500 out of your own pocket rather than paying $1,000 for your deductible and having a claim go on your record. On the other side of the spectrum, it probably makes more sense to file a claim if that damage exceeds $2,000 or is substantially more than your deductible.
Effects of a Car Insurance Earthquake Damage on Your Insurance
Whether or not you should file a claim, ultimately, depends on how much you're willing to pay out of your pocket to avoid an auto insurance claim going on your record. The more claims you file, the more your auto insurance score is affected, which will likely result in higher premiums.
Filing comprehensive claims for things like earthquake damage has a lesser impact on your insurance score and premiums because they weren't a direct result of your driving. However, they could still increase your premiums because there could be a greater chance of that damage happening again.

Ready to Save Money on Auto Insurance?
Rethink your auto insurance premium with a free quote from the nation's top companies.
The editorial content on Clovered's website is meant to be informational material and should not be considered legal advice.
Similar Articles