Claims 101
/
4 Easy Steps to File a Hurricane Home Insurance Claim
4 Easy Steps to File a Hurricane Home Insurance Claim
847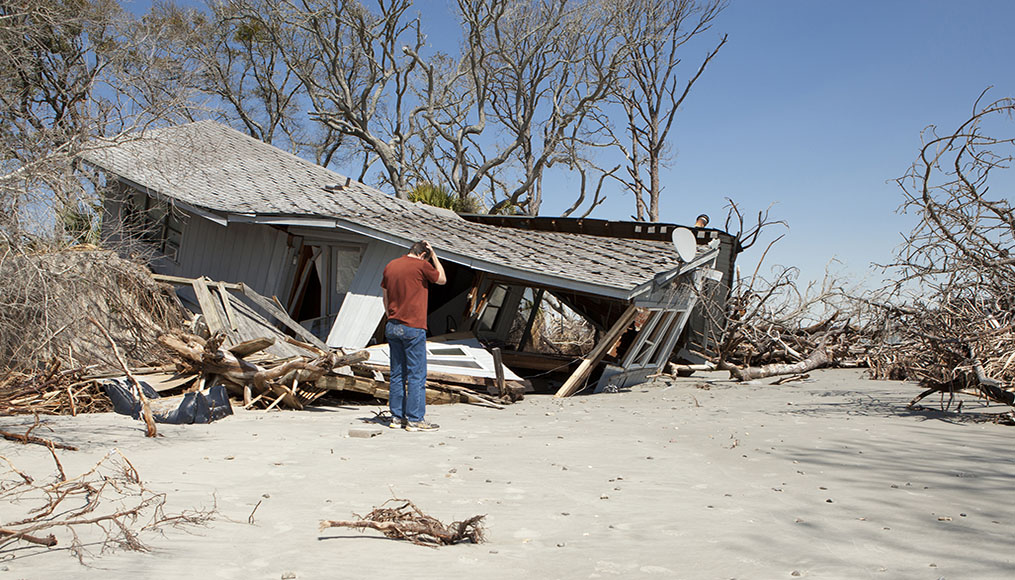 Nobody wants their home to become a hurricane victim, but living in a hurricane-prone area means you should know what to do if the worst case scenario suddenly becomes a reality.
Even if your home just sustains a few damaged roof shingles or a broken window, it's still a good idea to know how to file a hurricane home insurance claim. But before we get into the specifics of filing a claim, we're going to drop a few bits of quick home insurance knowledge.
Hurricane deductibles are a little different than regular deductibles.
Your hurricane deductible will usually teeter in the range of 3 percent to 5 percent of your dwelling coverage. So if you have $250,000 in dwelling coverage, your hurricane deductible would be between $7,500 and $12,500.
Most flood damage caused by hurricanes isn't covered under home insurance policies.
If a hurricane's gale force winds tear off your roof and fill your home with rainwater, that kind of flooding will likely be covered by your home insurance policy. However, if rivers rise or flood waters seep into your home through your home's foundation, that's usually not covered with home insurance.
You'll have to purchase a separate flood insurance policy to obtain coverage. It's important to know that flood insurance usually takes at least 30 days after purchase to go into effect.
1. Assess Damage to Belongings and Property
First thing's first, only return to your home or begin checking the exterior of your home after the hurricane has passed by and the storm dangers have subsided. When the coast is clear, you should assess the damage to your belongings and property.
Note damaged or destroyed items on a piece of paper and take a picture of each item. This will help you establish a visual record and will make things easier when submitting documentation to the insurance company.
It's important that you don't throw out any items that have been damaged or destroyed. Your insurance company's adjuster will need to physically see all the items to make a proper appraisal. However, if there are items in the home that could cause further damage — such as mold — it may be OK to take note and take a picture of the item and then discard it.
If, after assessing all damage, you realize that the damage isn't worth as much as your hurricane deductible, you may want to make the tough decision to pay out of pocket to repair or replace the damaged property or belongings.
If you can tell right away that the value of repairs exceeds your hurricane deductible, proceed to the next step.
2. Contact Your Insurance Company
Contact your insurance agent or file a claim online as soon as you possibly can. Chances are great that your home insurance company will have an influx of claims after the hurricane. Home insurance companies work on a first-come, first-served basis, so it's crucial to file as quickly as possible.
If you're talking to a claims representative, reading the list you compiled from the step will help speed up the process.
3. Conduct Temporary Repairs
If your home has broken windows or a patchable hole in the roof that's allowing water to seep in, you may want to go ahead and make those temporary repairs so that your home or belongings don't sustain any further damage that could've been prevented.
If there are large scale repairs that need to be conducted, it's best to leave those to the professionals. If the damage causes your home to become uninhabitable after the storm, know what may and may not be covered under the loss of use portion of your home insurance policy.
4. Put Receipts in Safe Place
If you have conducted minor repairs or been forced from your home, keeping all receipts is extremely important. Your home insurance company should be able to reimburse you for every penny you had to spend, but they likely won't reimburse for things without receipts.
If your home is deemed uninhabitable, temporary housing and storage should be covered under your home insurance policy.
After you've been through the previous four steps, your next steps are following up with your home insurance company, repairing or replacing personal belongings and rebuilding any portion of your home that was damaged or destroyed by the hurricane.
Similar Articles