How to Get Car Insurance for Any Vehicle
Auto
/
How to Get Car Insurance for Any Vehicle
Securing car insurance at the right cost with the right coverages is crucial to protect your vehicle. Nowadays, getting an auto insurance policy could be as simple as quoting and binding entirely online or picking up the phone to call your local agent.
The process of how to get car insurance is a lot easier than you may think (or remember). You just need a few details, and you'll be done in no time. Whichever way you choose to secure a policy, Clovered is here for you with its easy-to-use online quoting form.
How to Get Car Insurance Before Buying a Car
The process of purchasing a car and an auto insurance policy to protect it go hand in hand. You'll need relatively similar information to purchase both — but you'll need way less info for insurance. The good thing is that you'll likely already know the year, make, model and value of the vehicle at the time of purchase, so you'll have a headstart on buying insurance.
1. Establish What Types and How Much Coverage You'll Need
While this may seem daunting at first, there's a good chance you'll have a great idea about the vehicle you're going to purchase and how much you'll have to pay for it. What you pay for it is reflected in the value an insurer will pay you if you're involved in an accident and your new vehicle is considered totaled.
However, that's just the tip of the iceberg. Every state except New Hampshire and Virginia requires drivers to maintain state-mandated minimum coverage amounts on both bodily injury and property damage liability coverage. Those two coverages help to pay for damages to other people, vehicles and property if you're at fault in an accident.
But just because the state minimums are in place, that doesn't mean they'll be sufficient. Those numbers reflect the minimum amount you must have, and oftentimes fall vastly short of the actual auto coverage amounts you'll need.
3. Compare Insurers for Price and Quality
Just like shopping for groceries, you're probably not going to pay extra for oat milk when regular milk does the trick just fine. As with auto insurance. You wouldn't pay one company more than another for the same coverage. But the devil is in the details.
Oat milk has more substantial benefits than regular milk, setting itself up for a higher price. As with auto insurance, small coverages that provide big benefits may be hiding in plain sight. For instance, you'll pay substantially less for liability coverage than full coverage. And a full coverage policy that includes towing and labor coverage may be more costly than one without.
It goes back to deciding which coverages and how much of each you'll need. But with Clovered, we make that easy by utilizing real people to pair you with a policy that fits your needs and your budget. We're at the intersection of technology and real people, allowing you to get multiple quotes from the convenience of your computer (or phone) and having our agents on hand to walk you through any step of the process.
4. Purchase Your Policy and Hit the Road
After you've successfully purchased your policy with all the right coverages and coverage amounts, it's time to hit the road and drive into the sunset in your new or used vehicle. Now you're good to go and you can enjoy the finer (and more fun) things in life.
Do I Need Insurance Before Buying a Car?
Yes, you need insurance before buying a car. If you're buying a car from a new or used car dealership, you'll be able to purchase a temporary auto insurance policy on the spot so your vehicle is protected before you even drive off the lot.
Purchasing a vehicle from a private party may not have the same luxuries. You'll likely need to purchase a temporary or standard policy at the time of purchase. If you buy the vehicle and drive it home without having insurance, you're actually breaking the law and your car won't be protected if something happens on the way home.
Buying a New Car Insurance Grace Period
If you currently have an auto insurance policy on another vehicle, your insurer will likely give you a grace period of seven to 30 days to update your policy with your new vehicle's details. If you don't already have a policy at the time of purchasing a vehicle, there is no grace period and you'll have to purchase a policy before you're legally allowed to drive the vehicle off the lot.
Can I Buy a Car Without Insurance?
Dealerships won't allow you to buy a car without showing proof of insurance. If you have a policy in your name on another vehicle, that policy will suffice and your insurer will likely give you a grace period to update your coverage with the new vehicle's details.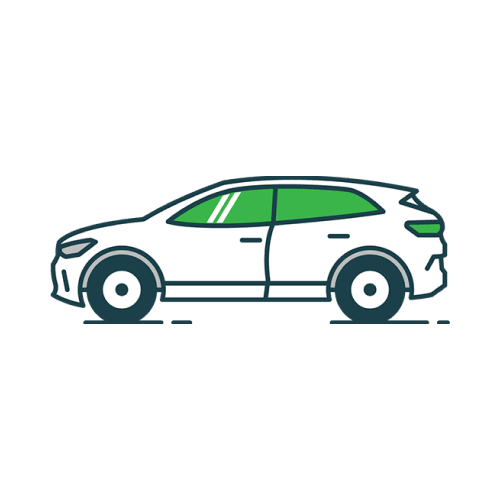 Ready to Save Money on Auto Insurance?
Rethink your auto insurance premium with a free quote from the nation's top companies.
The editorial content on Clovered's website is meant to be informational material and should not be considered legal advice.
Similar Articles
5 Min Read