Townhome Insurance 101: Cost, Coverages & More
Insurance 101
/
Townhome Insurance 101: Cost, Coverages & More
Finding the right townhouse insurance coverage can be complicated, especially when there are so many options to sort through. Should you get homeowners insurance or condo insurance? How much coverage does your townhome need, and how much will it cost?
This complete guide to townhome insurance walks you through everything you need to know to purchase the best insurance policy for you.
Do I Need Homeowners Insurance for a Townhouse?
You'll need to purchase homeowners insurance for your townhome if it isn't part of a condo association. Homeowners insurance covers the whole townhouse building, including the exterior walls, the roof, and the land it's built on.
This is an important distinction because, when a townhouse isn't included in a condo association, the homeowner owns it and is responsible for insuring the whole thing. It works a bit differently for condo townhomes, but more on that later.
You should also know that homeowners insurance isn't legally required, but it's always a good idea to have it. Insuring your townhome can save you from a huge financial burden in the event of a disaster, such as a severe storm or fire. If you purchased your townhome through a loan, your lender will almost certainly require that you get insurance.
Home Insurance for a Townhome vs. Single-Family Home
The difference between a townhome and a traditional single-family home is that a townhouse is attached, meaning it shares one or more walls with another home, while a single-family home is detached, meaning it stands separate from any other building. Even if the gap between your home and your neighbor's home is tiny, if both houses have their own walls, they're single-family homes.
When it comes to insurance, policies for attached and detached houses are essentially the same. They both include the following:
You need all these coverages whether you own an attached or detached house, so there's no special kind of homeowners insurance for townhouses. The only difference between policies for attached and detached houses is that homeowners insurance for attached houses tends to be cheaper.
How Much Homeowners Insurance Do I Need for a Townhouse?
As with every other kind of insurance, there's no one-size-fits-all townhouse insurance coverage. The amount of coverage you need is specific to you, based on factors like your home's value, the value of your belongings, and the level of risk that someone will get hurt on your property.
Ideally, your policy limits should be high enough that if your entire home and all your belongings were destroyed in a disaster, your insurance would pay to rebuild and replace everything.
How Much Dwelling Coverage Do I Need for a Townhouse?
The dwelling coverage limit on your insurance should be equal to or greater than the amount it would cost to fully rebuild your home from the ground up if it was destroyed. So, if your townhouse is worth $150,000, you should have at least $150,000 of dwelling coverage.
Here's an example of what happens if you don't take out enough dwelling coverage: Say you own a townhome worth $150,000. You want cheaper insurance, so you only pay for $100,000 worth of dwelling coverage. Then say that the townhome catches fire and burns to the ground. Your insurance will only pay up to $100,000 in rebuilding costs, and you'll have to pay the other $50,000 out of pocket.
Note: You only need to take out dwelling coverage on your townhome if you own the exterior structure of the building, meaning you are not part of a condo association. Next, we'll talk about what kind of townhouse insurance coverage you need if you are part of a condo association.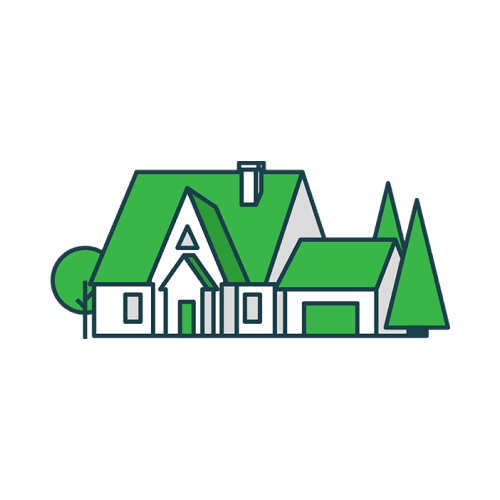 It's Time to Switch Your Homeowners Insurance
We partner with the nation's top homeowners insurance companies so you can get a custom policy at an affordable price.
When to Get an HO-6 Policy for Your Townhouse Interior
If your townhouse is part of an HOA, aka condo association, you would need to take out an HO-6 policy, also known as condo insurance. HO-6 condo insurance doesn't include dwelling coverage. When your townhome is part of a condo association, you don't need dwelling coverage because you only own the interior, not the exterior structure. The condo association owns that part of the building and is responsible for insuring it.
"But I don't own a condo," you might say, "I own a townhome." Don't let this confuse you. The two aren't always mutually exclusive. Townhome describes a type of building, while condo describes ownership of the building. So, your home could be a townhouse in style but still owned by a condo association.
To make it a little simpler: Is your townhome owned by an HOA or condo association in addition to being owned by you? If the answer is yes, you need HO-6 condo insurance. If the answer is no, you need homeowners insurance.
Walls-In Insurance for Townhomes
Condo insurance is sometimes called walls-in insurance because it essentially covers everything from the walls in. That includes the interior features of your townhome, such as the flooring, walls, countertops, and cabinets, as well as all your personal possessions. Walls-in insurance also covers your liability in case someone gets hurt inside your home.
What walls-in coverage doesn't include is anything outside your unit. So, the exterior walls, the roof, and any outdoor spaces (such as a yard or driveway) aren't covered by an HO-6 policy. If your townhome is part-owned by an HOA or condo association, the association will take out a master insurance policy that covers everything outside of your walls.
What Does HOA Insurance Cover for a Townhouse?
You'll have to check with your HOA or condo association to find out exactly what their master insurance policy covers. In most cases, HOA coverage includes the exterior structure of the building and common spaces shared by all members. Outdoor spaces connected to your individual home, such as your driveway, yard, or sometimes even your roof, may not be included.
Other than making sure you're covered, you don't really have to worry about the HOA's master insurance. It's the association's job to manage that policy and make sure the premiums get paid. Usually, the cost of this insurance is divided among members and included in regular townhouse HOA fees.
How Much Does Townhouse Insurance Cost?
Just like the amount of coverage you need, your townhouse insurance cost is specific to you. It depends on the size, age, and location of your townhome and how much coverage you opt for.
The best way to figure out how much insurance would cost for your townhome is to get a quote from Clovered. We'll show you a selection of policies from different providers so you can choose the best coverage at the best price for you, all online and in just a few minutes.
Townhome Insurance Calculator
If you need homeowners insurance for your townhome, here's how to calculate how much coverage you need:
Dwelling:

What is the current value of your home? You need at least that much dwelling coverage. Before you choose insurance, it's important you learn the difference between

replacement cost value and actual cash value

.

Other Structures:

Your other structures coverage will likely start at 10% of your dwelling coverage automatically. You can raise the limit from there if you need to.

Personal property:

Make an

inventory list

of all your belongings and the approximate cost of each. Whatever the total value of your belongings is, that's how much personal property coverage you need.

Loss of use:

Loss of use coverage usually starts at 20% of your dwelling coverage, and you can adjust from there as needed.

Liability:

Most standard homeowners insurance policies come with $100,000 of liability coverage, and you can always add more if you think you need it.

Medical payments:

Your policy will probably come with $1,000 of medical payments coverage, and you can usually increase it up to $5,000.
To calculate how much condo insurance you would need for your townhome, use the same method, except for the dwelling coverage. In place of dwelling coverage, a condo insurance policy includes building property insurance, which protects interior features such as flooring, walls, and light fixtures. Add up the value of your townhome's interior features to figure out how much building property coverage you should get.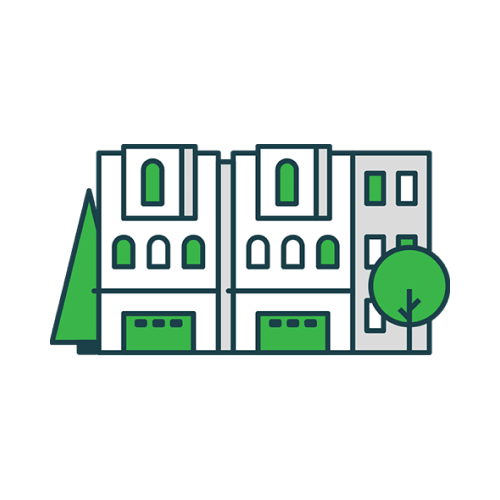 A Simpler Way to Get Condo Insurance
Protect everything your condo association doesn't with a custom condo insurance policy at an affordable price.
The editorial content on Clovered's website is meant to be informational material and should not be considered legal advice.
Similar Articles