When to Get Homeowners Insurance When Buying a House
Homeowner
/
When to Get Homeowners Insurance When Buying a House
When you're in the process of buying your first home, you may not think much about insurance. But even though it's not the most exciting thing, finding homeowners insurance is one of the most important parts of buying a house. A home is a massive investment, and insurance is how you protect both yourself and your mortgage lender, if you have one.
So, when should you get homeowners insurance when you're buying a house? The answer is as soon as possible.
When to Get Homeowners Insurance When Buying a House
You should purchase a homeowners insurance policy and ensure the policy is active on the day the house is transferred into your name. Many insurance companies allow you to purchase a policy that takes effect up to 45 days from the date of purchase, too.
Since there's always quite a bit of buffer in the long home buying process — even after closing comes and goes — your move-in date won't always be up to you. So that's why you need homeowners insurance to take effect on the day you take ownership instead of the day you move in.
When Are You Required to Have Home Insurance?
If you're buying your home with a loan, your lender will require proof of insurance in the form of an insurance binder, certificate of insurance, or insurance policy declaration page before closing.
That means you should have already found and purchased a homeowners insurance policy by the time your closing date rolls around. Some lenders might require proof of insurance as early as two weeks before closing day. Not having insurance in time could delay closing.
You should start shopping around for insurance as soon as you know for sure which home you're going to buy. Give yourself plenty of time to look at different policies and compare quotes from different insurers so you can find the best coverage for you at the best possible price. The best practice is to get quotes from at least three insurance providers.
Before purchasing a policy, make sure it meets your lender's requirements for scope and amount of coverage. If you're unsure about your lender's requirements, ask for clarification or even for your lender to go over a potential insurance policy to make sure it's satisfactory.
Keep in mind that your lender may require you to pay the full premium for the first year of insurance before closing, especially if your down payment on your mortgage is less than 20%. The cost of homeowners insurance varies a lot based on where you live, the size and age of your home, and other specific factors, but the average yearly premium in the US is around $1,000-$3,000. Be prepared to pay that amount upfront if your lender requires it.
Do You Need Homeowners Insurance If You Don't Have a Mortgage?
Homeowners insurance might seem expensive, but it's a worthy investment. In the event of a fire, break-in, or natural disaster, you'll be glad you have insurance to help pay for home repairs and replacements for lost or stolen property. And you don't have to pay for homeowners insurance upfront if you don't have a lender. You can split your yearly premium up and pay monthly. For an average rate of about $80-$250 per month, you could save yourself from financial ruin in the future.
Why should you get home insurance before moving in when you don't have a lender that requires it? Simply because it's the smartest and safest thing to do. As soon as you close on your home, it's your responsibility. If a storm blows through on closing day and rips off a section of your roof, you want to make sure you're covered so you don't end up paying for repairs out-of-pocket.
What Happens if You Don't Have Homeowners Insurance?
When you buy a home through a lender, you don't really have the option of going without homeowners insurance. Your lender won't pay out your loan without proof of insurance.
But let's say you're buying your home with cash, and you decide not to get homeowners insurance. After about a year, an electrical fire burns most of your house to the ground. Without insurance, you're on your own to rebuild your home all over again. You've basically lost your investment, not to mention all your belongings that were inside the home.
With insurance, though, you would at least have some financial relief in the wake of disaster. Depending on how much insurance coverage you have, your insurance would pay all or most of the cost of rebuilding your home.
It would also reimburse you when you buy new belongings to replace the ones that were lost, such as furniture and clothing. In addition, it would help cover the cost of temporary housing, such as a hotel, while you wait for your home to be rebuilt.
Basically, without insurance, you run the risk of financial ruin if something terrible were to happen. No one expects a devastating event, like a house fire, to happen to them, but homes are destroyed every day, and you never know when it could be yours. It's smart to take every precaution you can.
Is There a Penalty for Not Having Home Insurance?
Beyond the financial consequences of not having homeowners insurance, there's no official penalty for going without it. You aren't legally required to keep insurance on your home.
However, if you have a mortgage, and you let your homeowners insurance lapse, there is something of a penalty. Your insurance company will notify your lender of the lapse in coverage, and your lender will make you pay for force-placed insurance in place of your regular policy. Force-placed insurance is often more expensive and provides less comprehensive coverage than your standard homeowners insurance policy.
Compare Homeowners Insurance Policies Today
Shopping for home insurance can be intimidating, especially if it's your first time owning a home. But Clovered is here to help! With our super simple online quoting tool, you can fill out one form in a few minutes and be matched with great policies from different insurance providers.
We also have agents standing by through online chat and over the phone to answer any questions you may have during the process.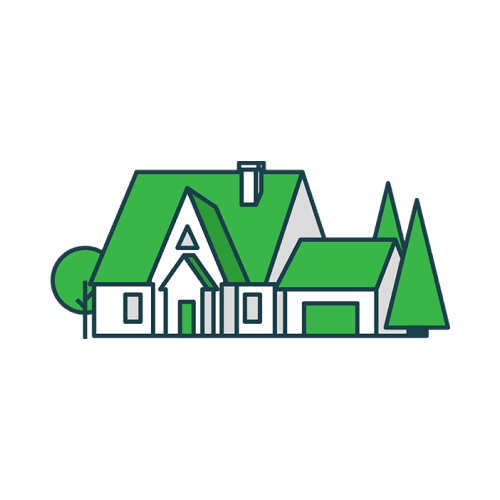 It's Time to Switch Your Homeowners Insurance
We partner with the nation's top homeowners insurance companies so you can get a custom policy at an affordable price.
The editorial content on Clovered's website is meant to be informational material and should not be considered legal advice.
Similar Articles