Insurance 101
/
Wildfire Insurance 101: California Edition
Wildfire Insurance 101: California Edition
1.4K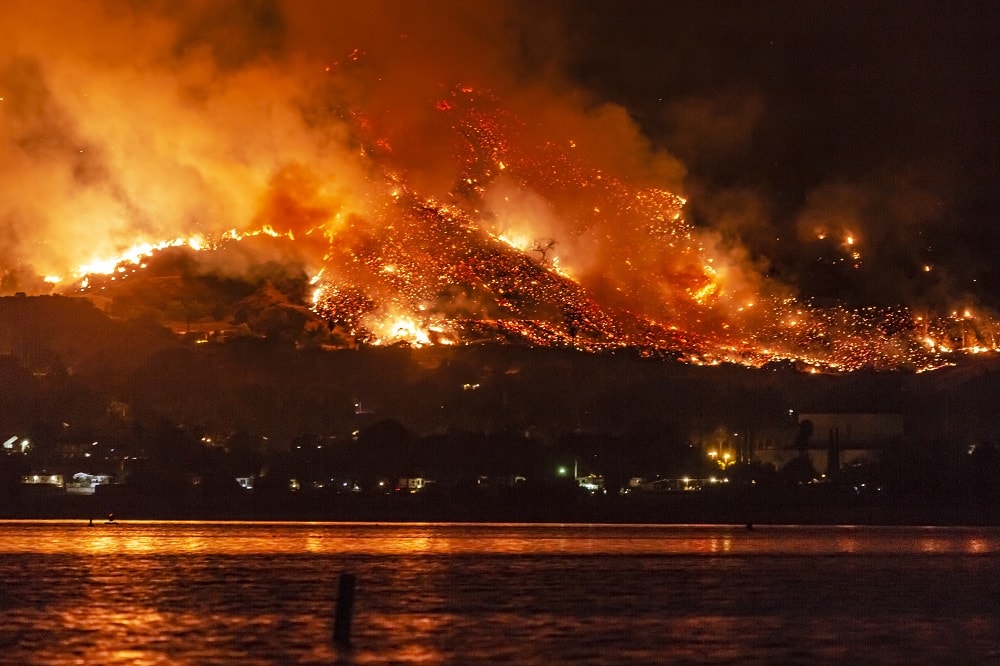 On the West Coast of the United States, the threat of wildfires has reached a fever pitch. In California alone, more than 1.8 million acres of land were destroyed in the 2018 wildfires, making it both the most deadly and destructive year on record.
For homeowners in the state of California, the fear of wildfires is more than just personal safety – it's also about the reality of sometimes having to leave behind everything you own with the hope that your home and community are still safe when you return.
In these cases, residents might be thinking more seriously about wildfire insurance and their policy coverage in relation to the California wildfires. Let's take a closer look at this particular form of natural disaster coverage, what's protected, and how much it might cost.
Does Homeowners Insurance Cover California Wildfires?
For many residents, homeowners insurance covers damage sustained from California wildfires. This coverage typically includes protection for your home, your personal possessions, and coverage for the cost of replacing your landscaping.
Depending on where you live in California, the exact coverage you can enroll in may vary, and it's important to understand the fine print on your policy to know what's covered and what's not in the event of a disaster.
If you know your home might be at risk from the dangers of brush fires, it's important to recognize the different forms of wildfire insurance in California and how additional coverage might help protect your home and your family.

Get a Quote
Forms of California Fire Insurance
In addition to coverage for your home, these are just a few of the different categories you may want to ask about to help protect your home from the destruction caused by California wildfires:
Personal property coverage

: If your home is in danger of wildfires (or any other natural disaster), it's crucial that you fully examine your personal property coverage and limits to ensure your possessions could be replaced in the event of an emergency.

Living expense coverage

: Not all homeowners insurance includes additional living expense coverage by default, but this added policy protection could help cover the cost of evacuating and relocating for your family.

Coverage for landscaping damages

: The fine print of your homeowners insurance policy may not provide coverage for damage done to your yard or foliage from California wildfires. You may need to ask your insurance provider what's included, and if you can enroll in additional coverage to protect the cost of replacing your plants too.
Do Californians Pay More for Wildfire Insurance?
Because certain parts of the state are naturally at a higher risk for wildfire damages, general homeowners insurance may cost more for some California residents than others.
Residents who live in especially fire-prone areas (including near canyons, brush areas, or wildfire areas) may be fully denied fire coverage by some insurance providers. In these cases, homeowners may have to look into purchasing standalone fire policies to protect their homes from California wildfires.
Preventing Damage From California Wildfires
Almost no area in the state of California is fully exempt from the dangers of quickly-spreading wildfires. Instead, there are precautions homeowners can take to help minimize damage to their homes in the event of a disaster:
For new home construction, insist that your home (and especially the roof and exterior construction) is built from non-flammable materials.

Be diligent about maintaining your landscaping ahead of wildfire season, including clearing any tree branches that might be too close to your home, or foliage that may be dead or quickly flammable.

Invest in fire-retardant or tempered glass for your windows.

Constantly clean and clear out the gutters around your home.
Wildfire Insurance in California
Beyond these simple prevention measures, it's extremely important to validate the coverage provided by your homeowners insurance policy and consider upgrading certain elements to make sure your home is covered should California wildfires erupt in your community.
The more coverage you have, the more you can focus on protecting your family from the dangers posed by these serious (and sometimes deadly) disasters.
Similar Articles