Does Homeowners Insurance Cover HVAC?
Homeowner
/
Does Homeowners Insurance Cover HVAC?
One of the most underrated and important parts of your home is its HVAC system. It's responsible for sending hot or cool air through your vents and making life more comfortable in all seasons. They get a lot of use, so it's important to know your options if your unit goes out.
Unfortunately, homeowners insurance won't cover an HVAC system that just quits working out of the blue. But there are many scenarios when your coverage could kick in to repair or replace your unit. Let's take a deep dive into everything you should know.
Does Homeowners Insurance Cover HVAC?
A few of the most common perils that are both covered and affect HVAC units are:
Vandalism

Theft

Fire

Lightning

Hurricane

Tornado

Electrical Currents

Explosions
There are also a number of events that are and aren't covered, as well as a few extra coverages that extend beyond damage to your HVAC unit. With a homeowners insurance policy, you'll get the following three coverages, which help protect the unit, damage it causes and unexpected living expenses if the damage is extensive.
But dwelling coverage doesn't cover your unit. If your HVAC unit is damaged or destroyed due to a covered peril, causing water from a burst pipe to damage the walls or flooring in your home, those damages are also likely to be covered by your policy's dwelling coverage.
Personal Property Coverage
If the same scenario of damage that we just mentioned also causes water to leak all over your electronics, furniture or other personal belongings, the personal property coverage in your policy will likely pay to repair or replace them as well.
But personal property coverage is valued a bit differently than dwelling. Your belongings will either be covered for their actual cash value or replacement cost. While replacement cost coverage simply reimburses you the amount you paid for an item, actual cash value factors depreciation into the reimbursement amount.
So a $2,000 couch that was damaged by a burst pipe from an HVAC unit may only receive $1,000 if it was purchased a few years in the past and deemed to be at its halfway lifespan. Since ACV almost always pays out less, it's also the cheaper of the two coverages in terms of premiums.
But your coverage goes even further. If your home's HVAC unit suffered a lightning strike that caused the unit to catch fire, loss of use coverage could be there to help you out. It's designed to pay for additional living expenses if the damage forces you to temporarily move out of your home.
Loss of use coverage can pay for things like a hotel or rental property of equivalent value, moving expenses and even pet boarding if your pets must be temporarily misplaced.
As an integral piece of your home's HVAC system, your homeowners policy includes all of the aforementioned coverages and protections for the heating system built into your home, including furnaces and fireplaces.
But heating systems that aren't built in don't share the same coverage. Many homeowners policies don't cover space heaters, and there are typically specifications in coverage when it comes to wood-burning stoves. Either way, you'll have to consult with your insurer to see if you're covered for those.
As long as they're built into your home, ducts, vents and other parts of your home's ventilation system are also usually covered from damage caused by the same perils as the rest of your HVAC is. Since ventilation systems usually come installed in your home and can't be added as a standalone feature that isn't built in, all parts of your home's ventilation system are usually covered.
However, it's important to note that window AC units may be considered a piece of personal property since they can be removed and aren't, technically, built into the home at construction. If this is the case, they will receive personal property coverage at its actual cash value or replacement cost.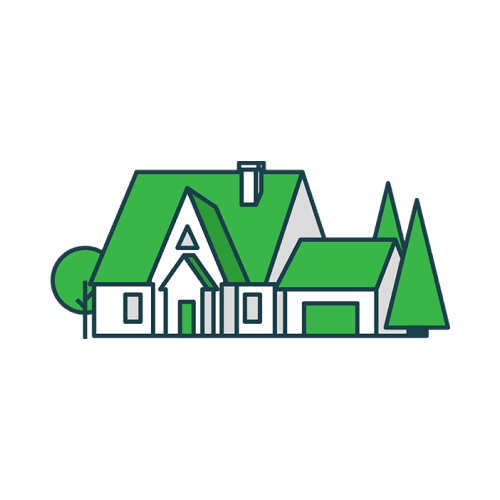 It's Time to Switch Your Homeowners Insurance
We partner with the nation's top homeowners insurance companies so you can get a custom policy at an affordable price.
The editorial content on Clovered's website is meant to be informational material and should not be considered legal advice.
Similar Articles