Home Improvement
/
6 Tips for Making Your Home's Major Appliances Last Longer
6 Tips for Making Your Home's Major Appliances Last Longer
341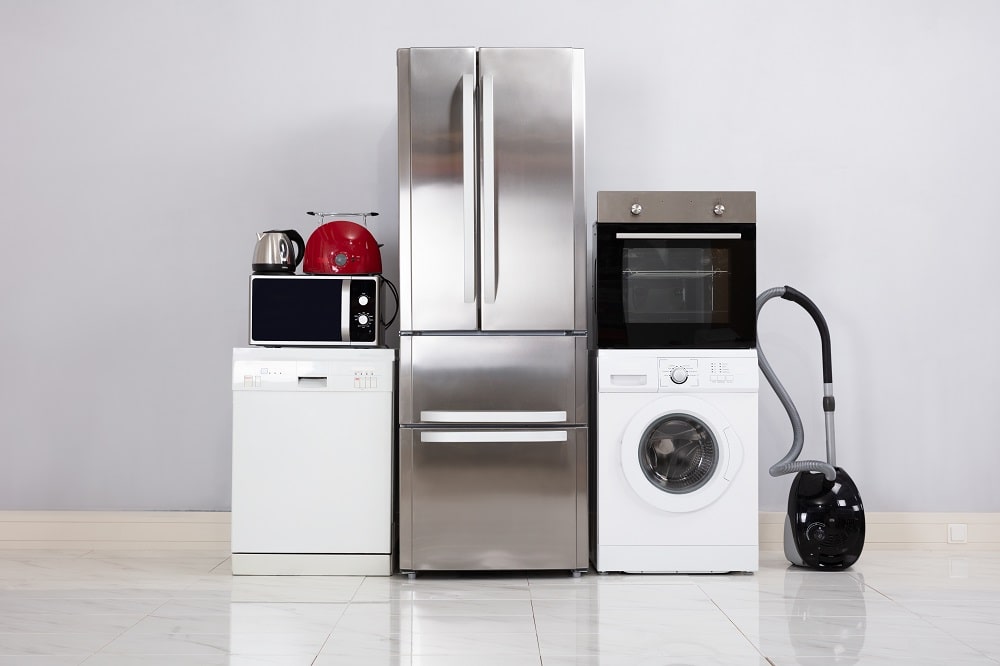 Furniture and decorations may be what makes your house a home, but it's your home's major appliances that make it livable.
Since the cost of appliances seems to be getting more expensive every day, don't you want to know how to make them last longer?
If you don't want to shell out $1,000 for a new refrigerator, $6,000 for a new air conditioning unit or a few hundred for a new dishwasher that also allows you play music (and maybe drive your car in the future), you're in luck!
Just by conducting a few simple preventative measures and making sure each appliance is properly cared for can save you a ton of money and make them last longer than you ever imagined! Here's how to do it.
1. Take Care of Your Refrigerator
Though your refrigerator will likely last you about as long as your vehicle does and doesn't require nearly the amount of maintenance, it's important to take care of the thing that stores your food at an adequate temperature and houses all those leftovers you've been meaning to eat.
Cleaning your refrigerator's condenser coils once every year could be the difference in a 10-year or 20-year lifespan (although who knows the technology they'll have in 20 years).
The coils are what keep your fridge pumping cool air to maintain the temperature and keep it from overheating.
Cleaning the coils takes about 30 minutes to an hour and costs pennies on the dollar compared to having to buy a new fridge.
On the other side of the spectrum, overfilling your fridge can have an adverse effect on its lifespan as well. If you want to extend the life of your refrigerator, make sure you clean the coils every year and don't stuff it full of items.
2. Don't Forget About the Dishwasher
The average dishwasher takes its fair share of use, especially if you're a dishwasher-half-full kind of washer.
To make your dishwasher last well beyond its 9-year average lifespan, you'll need to run it while full nearly every time to get the most uses. This should cut your loads in a quarter or so.
Many dishwashers also come with a factory setting cycle that's labeled "clean dishwasher." Get to know this feature and run it about once a month.
It will properly clean out any gunk that's stuck in the machine. If it begins emitting a foul odor, that means food or mineral buildup has occurred and the clean cycle needs to be run.
In addition, make sure you don't put large chunks of food in the dishwasher. This will only lead to clogging over time, which will cut your dishwasher lifespan in half.
3. Keep the Washer and Dryer Top of Mind
Aside from emptying the lint tray weekly, it's imperative that you remove grime from the machine and hoses on a yearly basis.
Removing the hoses and cleaning them (or replacing them when they've gone beyond their lifespan) is a simple task and can extend its lifespan by many years.
Oh, and don't overload the unit's limit. Even though we all despise doing laundry and want to knock it out in as few loads as possible, that doesn't mean we should overstuff it beyond its capacity. Doing so will only end in peril for your washer and dryer.
It's also important to keep the washer and dryer on a level surface. If you notice either beginning to shake or make loud noises, shut them off immediately and check to see if they're on a level surface or overfilled.
4. Clean the Stove (And Stovetop) Regularly
Stoves and stovetops get a ton of love from the food you cook in and on them, but are they getting enough love from you?
For stovetops, make sure you clean them after every use and don't allow food particles to seep into the crevices.
If you have a gas range, ensure the burner's flame is blue and not a yellowish-orange. A yellowish-orange flame means there could be food particles or other debris making it malfunction.
When was the last time you cleaned your stove? I'm talking about a lock-the-stove-and-let-it-simmer kind of cleaning. One that lasts you about eight hours, but you don't have to do much except lock it and turn on the cleaning setting?
If you don't know the answer to that one or it's been a while, it's time to order pizza and let it simmer!
5. Invest in Preventative Maintenance
Preventative maintenance is the key to extending the lifespan of your home's most valuable and major appliances.
By bringing in professional help to inspect and repair any issues allows you to address problems that could arise in the future or morph into issues that effectively put them completely out of service.
Air conditioners usually last anywhere from 10 to 18 years, depending on how well they're maintained and how often they're used.
But what if I told you that a longer lifespan can almost be guaranteed? You'd probably jump at the chance to make that statement into a reality.
You can do that just by changing the air filter every three months, programming it to be on a set schedule, turning it off when it's not needed and calling an HVAC professional once a year to take a look at it.
Furnaces aren't usually used as often as air-conditioning units, so they last quite a bit longer. We're talking anywhere from 15 to 30 years if you play your cards right.
Like AC units, furnaces also have air filters that need to be changed regularly. Since they're not in use much of the year, you may only have to replace it once a year (but do so before you turn it on for the first time each season).
And hey, while the HVAC professional is inspecting your AC, you may as well have them check your furnace while they're there!
Preventative maintenance is what keeps those pesky mineral deposits from piling up in the hot water heater's tank.
That's why flushing your hot water heater once a year (and up to four times a year in areas with hard-water connections) can have an impactful presence on extending its lifecycle.
6. Consider the DIY Route for Repairs
If any of your home's major appliances suddenly stop working, or you'd like to do preventative maintenance while they're still in service, it's way cheaper to conduct repairs and do preventative maintenance yourself than hiring a professional.
With the advent of Google and YouTube, you can find tutorials for pretty much everything in this world. Read and article or watch a video to see how it's done and maybe try your hand at it.
If spending $75 on materials and doing the work yourself can save you hundreds of dollars in labor, it may be worth considering. Get a Quote
Compare multiple policies to get the coverage you need at the price you want.
Sign up for our newsletter to get the latest updates.
Please enter email address.
Invalid Email Address.
Similar Articles